Open RFactor content in Blender 3d.
06.03.2015
Neva Ring or Nevskoye koltso is the legendary track had been inviting a lot of local, federal & international racing events during the Soviet & post-Soviet period. And now I have the model of it in Blender. See the pic below: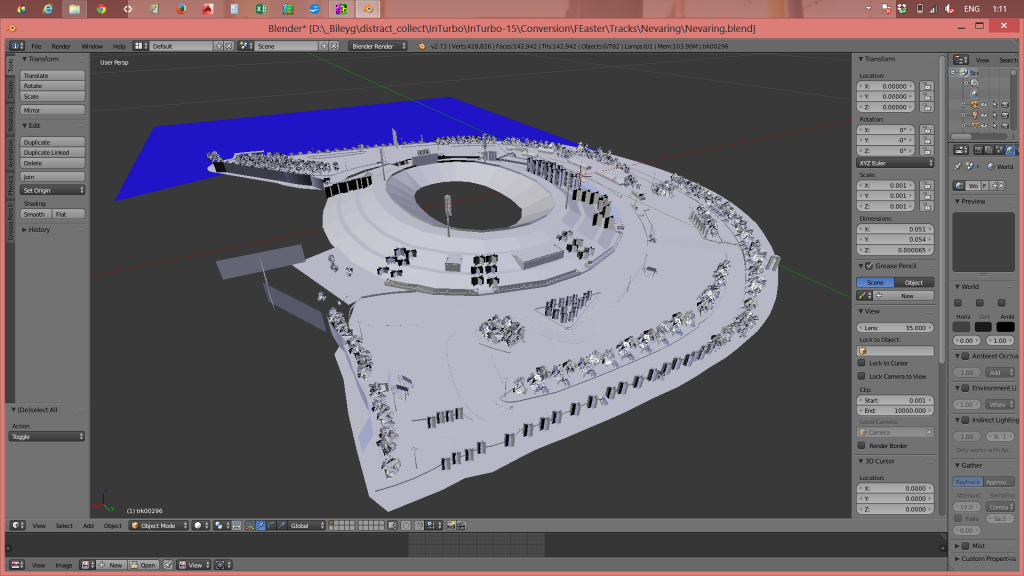 RFactor resources
RFactor is well known realistic racing simulator, however is quite old for now >11 years. It's still playable & moddable mostly by the easiness of creation & installation of custom mods. So the huge quantity of all-flavor local and global mods exist. That's the true value of RF for us as for the racing game indie developer.
Walkin' around the Net with «formula easter» searching request we could easily find not only cars, but the whole championship dedicated to glorious race series of the past.
URC.kz Formula Easter. Retro champ.
There are a lot of content including:
— Vehicles including all historic liveries:
MT 77
Estonia 20
Estonia 21
— Circuits:
Schleiz. DDR.
Hungaroring. Hungary.
Rustavi. USSR. Georgia.
Poznan. Poland.
Chayka. USSR. Ukraine.
Sachsenring. DDR.
Autodrom Most. Czechoslovakia.
Borovaya. Belarus. USSR.
Neman ring. Lithuania. USSR.
Neva ring. USSR. Leningrad.
Additional useful tracks that could be found here:
Kielce. Poland.
Brno. Czechoslovakia.
Total amount of racing tracks is 11.
Conversion RFactor to Blender
All these special car modding soft like Zmodeler or some others are nice but I prefer Blender3d. And you too could have the option to open RFactor models in Blender.
The thing we need for that is 3dsimED. Just google it and soon you'd find both the official website and a lot of additional places of attention to it.
3dsimEd fits for work with vehicles and tracks. And it could easily convert any RFactor model to 3ds. The magic of 3ds is the conserving of Unwrap coordinates while conversion. So soon we could have nice RFactor content in Blender… Properly textured!